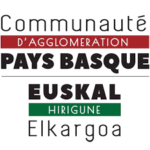 On December 18, 2018, the Agglomeration Community Basque Country decided to award an incubation grant to I Clean My Sea.

On 29 September 2019, I Clean My Sea successfully closed its crowdfunding campaign on the Ulule platform.
Thank you to all of you who personally supported I Clean My Sea:
Adrien Naegelen ,Alain Jouon, Aldo Sottolichio, Alexia Pigeault ,Amélie Nusse, Anne Bloch-Laine, Anne Rouet, Anne Peyraque, Anne-Frédérique Roux, Annie Meszaros, Annie Motel, Antoine , Saintilan, Antoine Cavadini, Antoine Landry, Armand Khayat, Arnaud Chanez, Arthur Levrault, Audrey Guérin, Auguste Poulon, Auguste Jouon, Aurelie Penne, Aurélie Dehouck, Aurélie , Dubois, Aurore Sarratia, Axelle Jouon, Bastien Mével, b-baronisabelle, Beatrice Viateau, Benedicte McQueen, Benoit Merit, Bernard Vuarnesson, Brice Bagneris, Brigitte Jouon, Carlos Da Silva, Caroline Petus, Catherine Vouve, Catherine Hodeir, Cedric Trespeuch, Charlène Pinceloup, Charles Bossennec, Charlotte Lamory, Charlotte Marliac, Christel Coeurderoy, Christiane Wurfel, christine khayat, Christine Thomas, Clement Buffet, Cristina Da Costa, Damien Rolland, David Leyle, David Darquy, David et Youlina Roch, delphine-145 , Dieuveil Ngoubou, Dominique Bossennec, Dowino , Elisabeth Woodville, Emeric Baldisser, Emmanuel Bossennec, Erwan Le Cloirec, Erwann Jouon, Fabienne Vignola, Fabrice Collard, Famille Deleau, Fani Darees, Flore Bonnard, Florence Bossennec, fly1 , Franck Mabilon, Franck Le Borgne, Franck Radwanski, François-Xavier Chabrol, Frederic Korupp, Frédéric Ribot, Gabriel Naegelen, gael64200 , Géraldine Houot, Ghis Haye, gilar67 , Gilles Alain, Gilles Poeydomenge, gluzek, Grégory Hebert, Guillaume Le Pontois, Guillaume Thebault, Guy CHantrieux, guy-cath-vidal, Gwenael Duclos, Harald Wurfel, Helene Charriton, Hélène Marty, Hélène Franciosa, Herle Jouon, hobbesdine81, Isabelle Frei-Feller, Isabelle Lafourcade, Jacky Bernard, jajabl, Jean Bloch, Jean-Baptiste et Carole Courtot, Jérôme Ducom, Jocelyne Casamajou, Joëlle Chapel, Johan Billet, Jonathan Allmang, Jonathan Piquet, Julian Brdy, Julie Bloch-Laine, Julie Barret, Julie Bernard-Chouard, Julien Dubost, Julien Lafourcade, Karine Machat, khalid-0 , Laetitia Dehaudt, Laure Guinet, Laurent Arnaud, Laurent Jouffray, Laurent Nusse, Lauriane Carsoulle, Loic Bossennec, Lou Retureau, Louise Maze, Lucile Pointeau, Luise Wurfel, lyd1 , Lydiane Mattio, Magali Raynaud, Magalie Schun, Manon Bossennec, Maria Wurfel, Marianne Urmes, Marie Fromanger, Marie Labeque, Marie et Jérôme Cran, Marie Hélène Bossennec, Marin Guegan, Marine Mattio, Marine Fournier, Marthe Grillet, Mathias Guyard, Mathieu Clavé, Mathilde Lacassagne, Matthieu Blandin, Maurine Motel, Maxime Malfilâtre, Maxime Savoie, Maxime Pauthe, Mélody Barthelet, Merlin Jouon, mialy-0 , Mickaël Closier, miezemauze , Mirko Pfaff, mkrzyzanowska , mlamarche-0 , Monia Polus, Nadine Seidel, Bertrand et Christine Naegelen, Nastasia Naval, Nathan Cardet, Nicolas Nortes, Nicolas Bornes, Nicolas Martin, Nicolas Nortes, Nicolas Dazet, Nikoletta Kemmler, Nolwenn Bottou, Olivier Taylor, Pantxika Narbey, Pantxoa Uthurbide, pas-baron , Pascal Brunet, Pascal  Legrand, Paschal Hannelore, Patrice Rochette, Paul Maréchal, Pauline Negre, Pauline Marol, Philippe Maron, Pierre André Bossennec, Pierre-Marie Bossennec, Pierre-Yves Calvez, Rebecca Dumont, Regis Laloe, Renan Pointeau, Richard Wurfel, Roseline Duringer, rsauter , Sabine Endara, Sabine Brandes, samo_corp , Samuel  Piffeur, Sebastien Legrand, Sébastien Dreyer, sergine Robert, Séverine Erran, Solène Coirre, Solveig Rolland, Sonja Chapuis, Sophie Woodville, Sophie Herrera Landa, Stéphane Horlaville, Stéphane Lardans, Stéphane Brinkert, Swann Barthelet, Sylvain Ouillon, Thibaut Delacroix, Thomas Perron, Thomas Thomas, Tino Martin, Ute  Wurfel, Veronique Dubois Ourdouillie, Victor Nusse, Vincent Roch, Vincent Faure, Xavier Couvelard, Xavier  Murard et Yoann Magnin. 
The participative is at the heart of the values of I Clean My Sea ... this campaign is the best testimony!
Follow our news on your social networks !